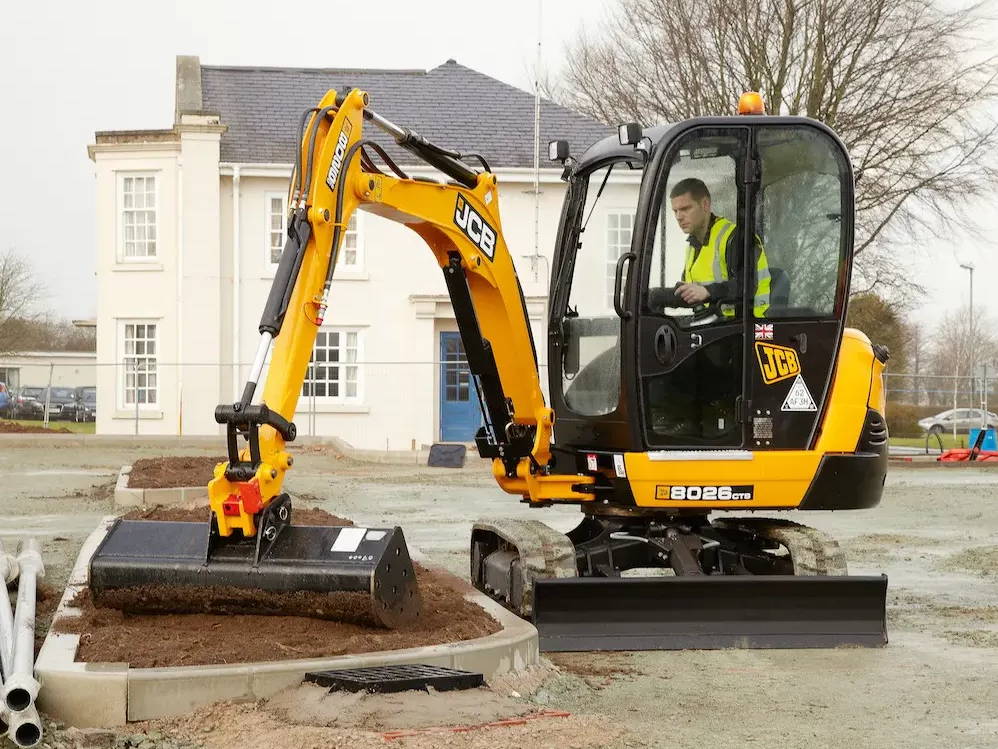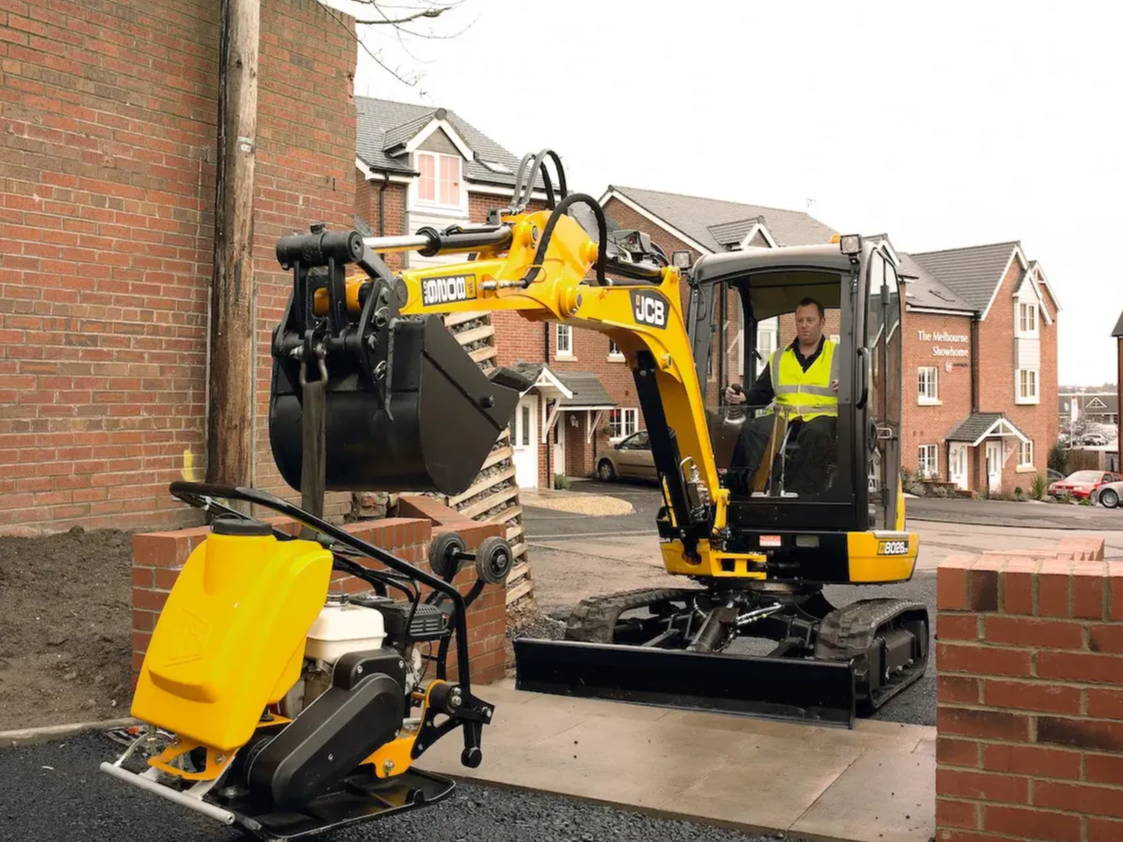 The 8026 CTS is one of the largest mini excavators you can tow behind a 3.5-tonne vehicle.
The out-and-out class leader when it comes to lifting and stability, combined with high tractive effort, tracking speed and pushing power. The 8026 CTS takes mini excavator productivity to new heights.
The machine is powered by the Perkins 400 series Stage V engine, a transverse 18.9 kW motor that deliveres 87.2 Nm of torque @ 1800 RPM. Boasting a dig end geometry for superior excavation performance of 2.74m dig depth, 4.77m reach and 3.22m dump height.
---
Reserve your machine online today with only a £100 holding deposit.
DELIVERY
Talk to us today
J.C. Bamford Excavators Ltd is an appointed representative of JCB Finance Ltd which is authorised and regulated by the Financial Conduct Authority. UK business users only, terms apply.
3 SIMPLE STEPS TO ORDER YOUR JCB 8026 CTS ONLINE
RESERVE ONLINE TODAY WITH A £100 REFUNDABLE DEPOSIT
WE WILL TRANSFER YOUR RESERVATION TO YOUR LOCAL JCB DEALER
YOUR ORDER WILL BE FINALISED AND DELIVERED TO YOU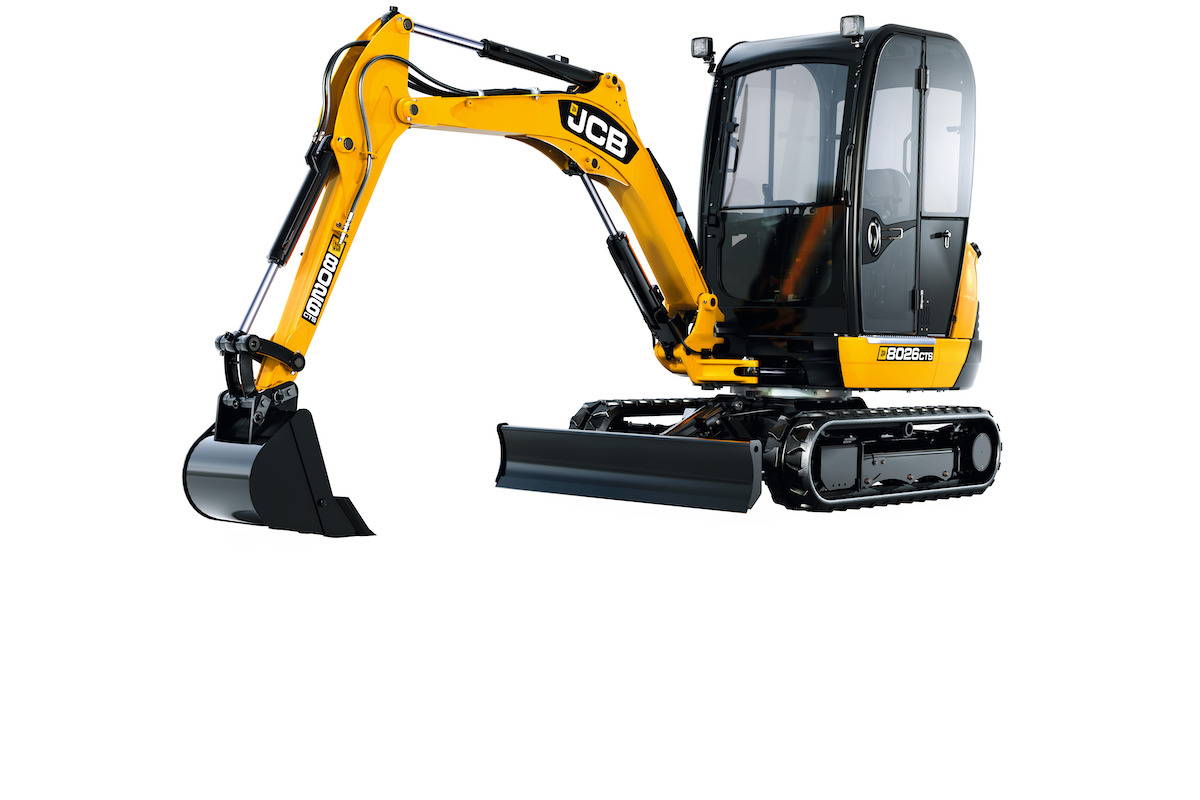 Image for illustrative purposes only.
Cab with heater, toughened glass and roof mounted worklights.

250mm rubber tracks with two speed tracking.

Fabric suspension seat.

1300mm long dipper allows greater reach.

Maxi-lift dozer blade which can be used to lift the machine and any suspended load.

Boom mounted work light facilitating low light operation.

A

mber beacon.

Mechanical quickhitch makes attachment changes much easier and safer.

460mm General Purpose Bucket with teeth.

600mm General Purpose Bucket with teeth.

1200mm Ditching Bucket.

Full radio installation.

Pin pad immobiliser helps reduce the risk of theft.

Single acting auxiliary circuit when using attachments.

Single/ double acting auxiliary change over valve

Grease gun and cartridge.

Battery isolator key for additional security.

CESAR datatag aids identification in the event of theft.

JCB Livelink - Track your machine location and hours from anywhere. (Includes five year subscription)

Standard UK Mainland Delivery.
• Operating weight standard dipper (kg): 2867
• Gross engine power kW (hp): 18.4 (24.7)
• Dipper length (mm): 1300
• Dig depth (dozer down) (mm): 3050
• Ground level reach (mm): 4660
• Bucket tearout (kN): 23
• Dipper tearout (kN): 17
The JCB 8026 CTS mini excavator is designed to meet customer demands for unrivalled service access and long 500-hour service intervals.
Externally, there's now a robust black cast counterweight to protect the rear and we've lowered the turret height by 35mm for added stability.
Single side grease points on the excavator arm pivot pins simplify greasing. Then there's excellent access to the hydraulic valve block under the side-opening bonnet, plus we've used the latest O-ring face seals throughout this compact excavator's hydraulic system for durability. The two gas assisted gull wing bonnets give excellent engine access.
On the 8026 CTS, there are Nachi auto kickdown motors for smoother operation when spin turning and dozing. Tracking speed and single speed tractive effort are therefore class-leading, at 5 kph and 25.02 kN respectively.
For lifting power to match, we've fitted a Maxi-lift dozer ram to this JCB mini digger. You can actually lift the front of the machine on the dozer even at engine tickover, at maximum reach with a 770kg load. This is unique to our machine.
The 8026 CTS compact excavator also features our EV31 hydraulic valve block, which gives 4 major benefits. Longer spools mean smoother controllability; load hold capability is increased; multifunctioning can be carried out while straight line tracking; and there's full control isolation over all hydraulic services.
Unusually for a mini excavator, there's plenty of room in the 8026 CTS' cab.
Access is easy via a wide door, and the door itself latches back within the tailswing so you can work with it open. To make access to this JCB mini digger even easier, the left control pod hinges up and there's no left foot pedal to get in the way.
The seating position is fully adjustable for maximum comfort and there's an efficient heating system. You can effortlessly store the gas-strut-assisted upper front screen overhead, and the lower front screen can also be removed. Plus, the whole cab structure is isolated from the slew frame for minimum vibration.
JCB LIVELINK IS INCLUDED WITH YOUR NEW 1T-2 SITE DUMPER
This industry leading telematics solution combines JCB's world class support with cutting edge technology innovation, right at your fingertips.
Whether LiveLink is notifying you of your regular planned maintenance, providing instant health alert notifications, or alerting you to possible theft, JCB LiveLink is the perfect tool to protect your new machine.
LET US SUPPORT YOUR NEW MACHINE
TAKE THE HASSLE OUT OF MAINTAINING YOUR NEW MACHINE WITH A JCB SERVICE CONTRACT FOR £8.05 PER WEEK.
Our Service Contract covers you for routine scheduled maintenance up to 3 years / 1,500 hours and includes service parts and oils, labour and travel.
Pay via direct debit with an initial payment of £183.87 followed by 35 monthly payments of £30.64.
Simply add the Service Contract to your machine at the checkout page, and let us deal with the rest.
2 EASY WAYS TO PAY FOR YOUR NEW MACHINE


Initial Payment
includes £100 paid on checkout today

£3,086.64 plus full VAT £6,845.00


£245 Acceptance fee and £50 +VAT Option to Purchase

You will own the machine when all payments have been made.
Initial Payment
includes £100 paid on checkout today

Based on a maximum 500 hours per year usage and return conditions apply. You will not own the machine when all payments have been made.
FIND OUT WHICH PLAN SUITS YOU
| | | |
| --- | --- | --- |
| FEATURE | HP | FLEXILEASE |
| Helps with accurate budgeting | | |
| Helps spread the cost of investment | | |
| | | |
| | | |
| | | |
| | | |
| | | |
| Off balance sheet funding | | |
| Profit opportunity on disposal | | |
| Protected against loss on disposal | | |
| Offset against taxable profits | | |
| Eligible for annual investment allowance | | |
RESERVE YOUR 8026 CTS TODAY WITH A £100 HOLDING DEPOSIT.
LEASE IT: 3 YEAR JCB FLEXILEASE
LEASE IT: 3 YEAR JCB FLEXILEASE
J.C. Bamford Excavators Ltd is an appointed representative of JCB Finance Ltd which is authorised and regulated by the Financial Conduct Authority. UK business users only, terms apply. ​